Reviewed by- Varsha Singh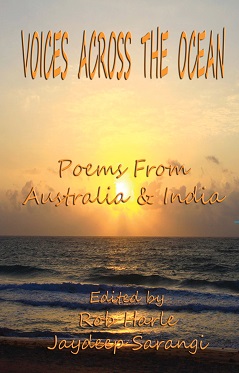 "To get the full value of joy you must have someone to divide it with."
The recently published collection of poems, Voices Across the Ocean is a continuation of the literary companionship being developed between India and Australia. It is the third anthology edited by Rob Harle and Jaydeep Sarangi, in a series published by Cyberwit with an aim of sharing the joy of expanding and exploring the contemporary poetry of these two diverse countries.
The collection broadly clings with the theme of emancipation at all levels; personal, social and political as well. But what does emancipation mean? In general term, emancipation means freeing or liberating someone from the control of another. It is the act of setting free from the power of another, from slavery, subjection, or controlling influence. It can be applied in several contexts: the emancipation of slaves, the emancipation of minors, the emancipation of a person from prejudices, the emancipation of the mind from superstition, among others.
There are voices of ten poets in this anthology; Ali Cobby Eckermann, Bronwyn Owen Allen, Hamish Danks Brown, Nathalie Buckland and Peter Nicholson from Australia; along with Archana Sahni, D.C. Chambial, Sanjukta Dasgupta, Vinita Agarwal and Vivekanand Jha from India.
Award winning poet, Ali Cobby Eckermann's poems 'Life Is Often Silent', 'Monsoon', 'ooooo George Town' and 'ooooo Deceit' are dark in nature. Her poem 'Life Is Often Silent' describes silence in such a way, that it seems to be the loudest cry. There is no escaping the silence/when hunting a kangaroo for food by foot/nor the laughter of the chase/ when a goanna is knocked out of a tree/ there is no escaping the silence/ of a coinless empty pocket today/ nor the laughter of the teenagers/ when soccer is played in the park/ there is no escaping the silence/ of a grandparents dying gaze/ nor the laughter of the babies/ when they walk their first step.
Bronwyn Owen Allen's poems 'The Clean Room', 'Away', 'Two Blackfellas At Rick's Café' and 'Working Life' hit harder as they are feminist in nature and the poet too announces herself 'a proud feminist'. Her poem 'The Clean Room' reminds of Virginia Woolf's much acclaimed essay 'A Room of One's Own'. Yet I cannot blame those/whom I love/or accuse them/of holding me prisoner. /The clean room is my own sentence. /It is I, who has scrubbed and preened/ my wastrel mind/ 'till perfectly cleaned, and/ poised to be seen.
Hamish Danks Brown's poems 'Mentored By My Compass', 'Valentine's Day 2002', The Shadow Which Turns The Border' and 'Does This Round Us Up?' are of distinct quality. The poet holds an expertise in the art of being serious and humorous at the same time. Mentored by my compass/only when it started spinning out,/from a mindset in centrifrugality,/and untrue north turned back/down upon sorry south to the clear,/block lettering that graphically pinpoints/what might have to be/the clearing house of my remedy. His poems are amusingly geographical in nature as well. Sandon Point may not be/such a massive promontory/in height, scale, or line of sight, … It's located on the same Indo-Australian plate,/that the tectonicians have so categorised/as being burdened by both our large lands/and the wider seas that come between them.
Nathalie Buckland's poems 'In My Town', 'a walk in the sunshine', 'Wasteland' and 'Where is your baby?' cannot be categorized into one, as they are multifarious in nature, being social, political and personal as well. Through her poem "In My Town' she provides a glimpse of empowered women; In my town/old women carry drums,/they stalk the footpath,/wrists empowered by rhythm/swelling to taloned hands./Sniffing the air for coffee/they prowl/with predatory eyes,/while hulking youths/shrink into doorways/fleeing the grandmother glare./Poised to pounce/they crouch inside a café/ and suss the street./In my town/old women rule.
Peter Nicholson's 'Remembrance Day', 'Morning Assignation', 'IV' and 'Prometheus' speak aloud of emancipation of a greater level and that too on a broader canvas of life. His poem Prometheus provides a bitter picture of liberation in form of war; Punished for searching, my virtue is patience, /waiting for liberty bitter endurance; /my senses intuit a new transformation/but what will result is unknown, uncertain. /Near creeping sand bars/Limestone reefs/ Link cords of rock, / Shimmering crystal, fossil beds, /Nature's systems mirroring/Dynasties above.
Archna Sahni's 'Passage to Tibet', 'Tibetmata', 'Hidimba's Gift' and 'How Zan Lost His Paradise' are poems tracing their origination from myths and national histories, with unique sensibility and blend of admiring creative language. Her poem "Passage to Tibet' is a dedication to Dalai Lama; On the terrace/of Drepung Loseling,/in front of/Dhauladhar ranges,/throw aside all lessons/on creative visualization/and mediate/with open eyes. /Carried/ on the drumming sound of rain,/listen/to the early morning chanting/of minks/in whose voices/lies the pain of lost causes,/a lost home. /Once they chanted/to celebrate, /Now they chant/to heal.
D.C. Chambial's poems 'Cat and Dove', 'Wingless', 'Remorse' and 'We Are Living' are short and crisp in nature but they hit back towards the marrow less society with great force. We are living in a land/that abounds in/ wolves, hyenas, and jackals/care for none/save for their own selves and broods; /proficient in pilfering/the share of hen and lamb; /concern confined only to clans. /We are living at a time/when morals, ethics and virtues/emaciated, scared crouch in a corner; /debauchery, larceny, treachery/ the order of the day. /Love and compassion banished; /jealousy and hatred rule the roost.
Sanjukta Dasgupta's 'Shame', 'Goodbye, Mallika', 'Malini's Role Playing' and 'The Eleventh Muse' are poems empowering the feminine voices. Her poems beautifully and powerfully depict the condition/life of a girl, a poetess, a woman and muse. Be it Calliope, Clio, Erato/ Euterpe, Melpomene, Polyhymnia/ Or even Terpsichore, Thalia or Urania/ The elegant Nine Muses were dedicated/ To muscular arms and strong fingers/ The creative power pen/ Had to be mightier than the sword/ Those virile creators/Narrated epics, sagas/Lyrics, elegies, hymns, songs and dance/Tragedy, Comedy, Astronomy/Scripted sonorous journeys of discovery/ Those inspires ones/Who wrote chauvinist epics and sagas/Composed heroic poetry and the alexandrine.
Vinita Agrawal's 'Priest King', 'Hibiscus', 'Call Me Love Tonight' and 'Cold in Oppression's Shadow' are verses of social, political and personal emancipation with a broader spectrum. Each of her poems is idiosyncratic, with plenty of hopefulness and unleashes commendable creativity. Wrapped in wintry winds that howl with hope/ a plateau lies tortures and struggles to cope/Its heart lies buried in silence and despair/its soul lies banished, here freedom must crawl and grope /Mountains shall speak, so will valleys and dales/Breathe spirit and guts into fiercely blowing gales/ Rebellion will flood the dungeons of hell/Conspire with the moon to invent a tide that never fails.
Vivekanand Jha's 'Stigmatic Widowhood', 'Flogging Dead Horse', 'Cut-throat' and 'Cruelty' are harsh poems of pain. Poet of a rare breed, Jha has made the socio-political scenario lay bare in front of the world enveloping in form of poetry. Ah widow! /You have never been a civil citizen/always mutilated from constitution/like forbidden and fanatic institution. /Not for you fundamental rights/Not for you democratic exercise/These are of the men, /for the men and by the men.
The collection becomes complete with the hopeful poems of the Editors; Rob Harle's 'Sandgate' and Jaydeep Sarangi's 'Stories Of The Night'.
This is an anthology, which will be remembered forever for its seriousness, urgency, profundity and universality. A must read for the lovers of poetry.
Edited by Rob Harle, Jaydeep Sarangi